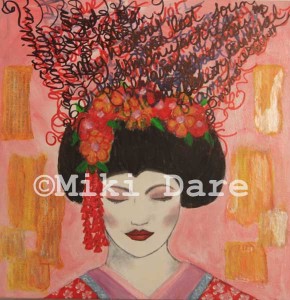 The Nikkei National Museum and Cultural Centre in Burnaby is combining its spring festival with its 10th Annual BLOOM Art Silent Auction. I will be donating art for the silent auction as will other local Japanese artists. Come out and pick up a painting, print or pottery to make your home beautiful and help support the Nikkei Centre. Here are a list of artists taking part so far: Mariko Ando, Miki Dare, Yoriko Gillard, Lori Goldberg, Sleepless Kao, Merry Meredith, Shinsuke Minegishi, Raymond Nakamura, Christopher O'neill, Claire Sower, Jeremy Isao Speier, Takao Tanabe, Sachi Yamabe, Instant Coffee, Yifei Zhang, Yurie Hoyoyon, Justine Miles, Michael Abe, Kathy Shimizu, Jeff Chiba Stearns, Audrey Nishi, Joyce Kamikura, and more. The silent auction is taking place on Saturday, April 21st, 2018 from 11:00 a.m. to 3:00 p.m.
The Nikkei Centre Spring Festival will also be happening on this same date, so stay awhile and enjoy Japanese food, a tea ceremony, martial arts, dance, music,a bonsai display, and arts and crafts. There will also be a kids zone outside for children to take part in a variety of fun activities. 
You can also check out the Beta Vulgaris: The Sugar Beet Projects in the art gallery. This exhibit, by Kelty Miyoshi McKinnon and Keri Latimer, looks at the connection between Japanese Internment during World War Two and sugar beet farms.  Japanese-Canadian families were told they could stay together if they chose to pick sugar beets in Alberta.  Their forced labour covered about 2/3rds of Alberta's sugar beet farms in the 1940s. There will also be a free film screening of Facing Injustice. The film looks at the relocation of Japanese-Canadians to Manitoba.