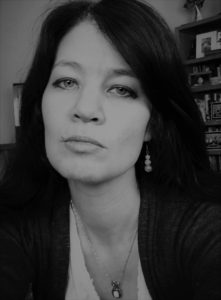 Miki Dare (Dare is pronounced DAH-RAY in Japanese) lives on the West Coast of Canada where she likes to express herself with whatever falls into her hands – from a pen to a paintbrush. She enjoys working with mixed media (from food packaging to fire) and acrylics on canvas to explore issues of identity, personal history and social realities. Check out her Geisha Girl Stereotype Survivor collection.
Miki also explores race, class and gender through short stories and poems. She writes in the fantasy, science fiction and young adult fiction genres. Check out her most recent writing.
From words to wet paint, Miki is inspired by even the smallest rebellions in life – from the flower growing out of a crack in the sidewalk to the muddy footprint on the freshly cleaned floor. It's about being creative and surviving with love, strength and a sense of humor in your corner of the world.