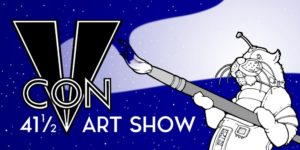 Come chill out with me at VCON Relaxicon (41½) this month. It's happening from Saturday, October 28th to Sunday, October 29th at the Sheraton Vancouver Guildford Hotel in Surrey.
It will be my first time to attend, and this is how VCON is described on its website, "VCON is the oldest general-interest science fiction, fantasy and games convention in Canada and the Pacific Northwest. The convention has promoted the interests of science fiction and fantasy culture in Vancouver BC and its environs since 1971, offering events and exhibits focused on a variety of Science Fiction and Fantasy fandom interest areas such as literature, art, media, music, costumes, comics, tabletop games, electronic games, etc."
Swing by the art show to check out my Geisha Girl Survivor artwork. I'll have framed and unframed prints for sale. Also pay the Edge Science Fiction and Fantasy Publishing booth a visit as I will be hanging out there for a bit too. Edge is out to promote a number of books, including Compostela: Tesseracts Twenty. My short story "Grounded" is in this anthology and it is edited by the fabulous Spider Robinson and James Alan Gardener.
Come out and enjoy the chill vibe and hope to see you there.