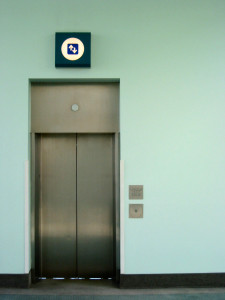 How to Market Your Portfolio to Galleries and Curators
I recently went to a talk by Laura Schneider, acting director and curator of the Reach, called How to Market Your Portfolio to Galleries/Curators. She was fabulously energetic, informative and inspiring; and I'm planning to write more on her talk in future posts. One of the best tips I picked up was the importance of the Elevator Pitch.
Elevator Pitch for Artists
I had a total "Aha!" moment when Schneider said that an artist needs to have an elevator pitch. I knew you had to work on having an elevator pitch in the writing world — the idea is you pretend that if you were caught in the elevator with a book publisher, what one-minute spiel would you give to sell your book/screenplay/etc? When Schneider brought the elevator pitch concept up for art, I had to really think. What would I say if a gallery owner or curator and I were stuck in an elevator together for a minute?
Be Confident
Schneider's advice was to "be confident in describing what you do, why you do it and where you're going." I had never really boiled down these three ideas before, and yet I should be ready at all times to give a Cole's Notes version of this information.  Right away I started thinking about how I would pitch myself. Here are my thoughts on how I would answer the questions she brought up.
What Do You Do?
What do you do? Currently, I paint geisha girls in acrylic and then I rip up pages from Japanese books, glue on instant noodle packaging, drip wax and burn canvases.
This by itself definitely seems to be missing something. Why on earth is this woman being so destructive in her work?
Why Do You Do It?
On to the important second question: Why do you do it?
In an overall sense, I like to look at the world through the lens of race, class and gender. In particular, I like to create art focused on those who are not at the top of the hierarchy and express what that looks and feels like.
If I want to be more specific to my recent work titled Geisha Girl Stereotype Survivor, this is what I'd say:
As a woman of 'mixed' heritage, I created this art to come to grips with stereotypes about Asian women. Faster than you can make instant Asian noodles, stereotypes about my race and gender combo come easily to mind. My work also reflects on the history of the internment of Japanese-Canadians and how that impact is still felt today. My grandparents died before the Canadian government apologized. Their loss, on so many levels, is haunting.
Where Are You Going?
The final question: where are you going?
Because I'm a mix of races, people often are not sure of "what" I am. I plan to do other portraits and explore the stereotypes of other racial groups I am, I've been mistaken for or called. I've already got some in the works.
What's Your Elevator Pitch?
These are my thoughts on my elevator pitch for now, and I'll likely change them up as time goes on. But at least now I have a basis to jump from should I ever get the chance to be in an elevator with a gallery owner or curator. I love the elevator pitch concept, and hope this will spur you on to write your own if you have not already. If you have a great elevator pitch for your art, please feel free to share it by leaving a comment on my blog.
I'm now getting off this elevator ride to go get some painting done. 🙂